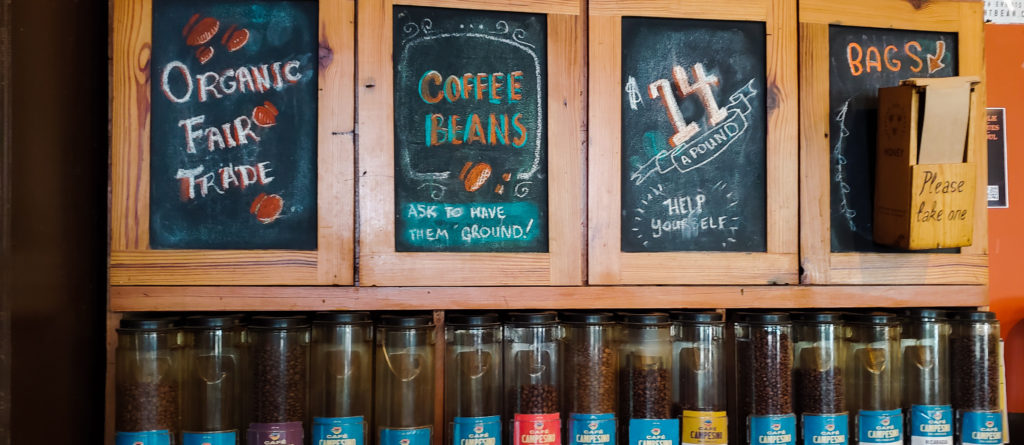 There are several options for a hot or iced cup of caffeine in and around Savannah. But if you want a single origin roast with a shot of social and environmental justice, the Sentient Bean on Forsyth is one of the best choices. That's because the Bean has worked hard to grow not just a thriving coffee shop, but also a healthy root system throughout the community. Owner Kristin Russell's mindful business choices permeate the shop — from the carefully sourced ingredients coming in the door to the minimized waste stream that exits the building. It's plain to see why Sentient Bean is one of the Low Country's most admired businesses.
Origins of the Bean
A farmer's daughter, Kristin Russell was taught good stewardship of the land from youth. Her environmentalist upbringing was galvanized at college where she was shocked and disturbed by the wastefulness of off-farm life. Russell, together with her like-minded roommate, created a progressive business plan built around sustainability.
The Sentient Bean opened in 2001 on a mission to become a local gathering spot with a positive impact on the community and the environment. Its location on Forsyth Park was an ideal place for people from many different walks of life to mingle.
Three days after opening, two planes crashed into NYC's twin towers, and the young coffee shop was quickly put to a test of resilience. The Sentient Bean made a difficult decision to keep the doors open during the period of social, political, and economic uncertainty that followed the attack.
Despite the challenges, the owners were gratified to see that the Bean filled a gap and did indeed quickly become a place where neighbors could meet, find community, and support one another during a difficult time. "We're open" would be come a motto of sorts over the years, since the Bean became known for being reliably open and available for community during crises like hurricanes, and recently during COVID shutdowns. "People need a place to charge their phones," says Russell simply.
(Self) SustainABility AT sentient Bean
In those first years, the Sentient Bean managed to produce only a single bag of garbage each day, while serving a growing customer base. This was accomplished though commitment, hard work and homegrown ingenuity.
The Bean offered guests ceramic mugs which were washed and reused. There was no curbside recycling, so the staff took recyclable material to the hub every week. Composting was a practice from day one. Jane Fishman, a friend, would haul the compost to her community garden. The compost fed the plants, which in turn fed neighbors and unhoused who frequented the garden. When the volume became too much for Jane's small vehicle, owner Kristin Russell sorted the trash from organic material herself, loaded it in the back of her family pickup and brought pails of compost to to the community garden. She continued this practice faithfully until 2008 when a member of the Sentient Bean staff volunteered based on a passion for compost. This staffer, Andy, would start his own compost business in 2011 called "Grow, Eat, Repeat", take over management of the Bean's compost, and free Kristin up to focus on more projects.
The Park Ave address is a great location next to Savannah's largest community greenspace, but it had another strategic benefit: being situated just doors down from Brighter Day Natural Foods Market. Brighter Day's owners shared a passion for community health. In those early days, when the Sentient Bean was trying to scrape together small orders of organic whole foods for their menu, they could purchase ingredients from Brighter Day and add small orders to the market's truck deliveries from suppliers.
And what about the beans? The Sentient Bean's beans were (and still are) sourced from Café Campesino, an importer of small farmer coffee, and the only fair trade roaster in the South at the time.
Scaling up Environmental & Social Action
More than two decades after its first opening, the Sentient Bean has scaled up operations and community impact. In 2008, Russell helped found the Forsyth Farmers Market, which provides economic opportunity for local growers and healthy, seasonal foods for consumers. The Sentient Bean still serves coffees and teas that are exclusively fair trade, and now there are local Georgia beers on tap too.
Vegetarian Whole Foods Menu
With only a few exceptions, the menu is comprised of organic or locally-sourced whole foods. Five local farms steadily supply ingredients, and the kitchen staff is conditioned to work with a flexible menu. "We serve what's in season," says Russell.
In 2020, when Brighter Day's owners were ready to retire, Russell bought the market and continues to build on its foundation as a source for healthy, natural, sustainable foods.
An Inclusive Meeting Space
True to its early vision, the Sentient Bean continues to be a meeting place where all kinds of folks gather for events in Savannah, like yoga @the bean, live music, politics, and art exhibits. FCPC Open Mic Night is every first and third Tuesday where "anything goes" — poetry, music, drag, performance art. Anyone can come and show off their talent.
"*All are welcome" says the sign on the front door…. *unless you are
a pet (with the exception of on-duty service animals)
you are being a jerk (please be kind to others, bus your own table and respect the space)
you are a gun (unless you are in service of an officer)
you are outside food (eat our food. It's vegetarian, local and delicious)
scaling Down Waste
Russell has chipped in with six other businesses for private recycling to make sure the material has the best chance of getting repurposed. And when the city stopped taking glass for recycling a few years ago, the Sentient Bean upped their investment and began recycling their glass through Lammergeier Glass Recycling. In three years, Sentient Bean diverted 87,752 lbs of organic waste to compost and created 73 cubic yards of soil through COR Compost. Sentient Bean switched to renewable energy through Arcadia Power more than five years ago, and meets the qualifications of the EPA's Green Power Partnership in recognition of efforts to reduce the risk of climate change through the use of green power.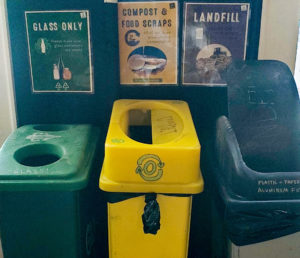 Support Local FarmS
I asked Kristin what regular folks can do in the Savannah area to support sustainability. Her advice: "support local farmers." We need thriving, sustainable farms for a healthy community, and Georgia is behind the curve for farmer support.
Here are a 7 low country farms who supply ingredients for Sentient Bean:
Adam's Farm and Gardens – Savannah, GA
Bootleg Farm Dairy – Springfield, GA
C-Port Mushrooms – Savannah, GA
Kachina Farms – Rincon, GA
Joseph Fields Farm – Charleston, SC
Southern Swiss Dairy – Waynesboro, GA
Watsonia Farms – Monetta, SC
Closing SentiMents
Being a mentor herself to many locals who are concerned about sustainability, I asked Kristin who were her business role models. She is inspired by Bill Harris, founder of Cooperative Coffees, who staked his career on a belief in transparency, sustainability and economic justice for small farmers.
Her other role model is her father, who was a farmer. "I would never have called him a businessman," says Russell, "but he taught me about long-term planning. 'Sacrifices must be made,' he always said."
Kristin says it's impossible to count the number of sacrifices she has made to the bottom line, but "it's worth it to feel good about what I'm doing here," she says.
"You have to give yourself permission to make a little less money, so you can make more difference." – Kristen Russell, Owner of the Sentient Bean, Savannah GA